The first Alumni High Table (2019-20), organized by the SKHTST Career and Life Planning (CLP) Team in collaboration with the Alumni Association (AA) Ltd and the Staff Development Team, was held on September 21, 2019.
The Alumni High Table aims to bond alumni of different years, all current teachers and F5 students. Response from different parties was encouraging, with 161 participants [28 alumni, 50 current staff members and 83 students] attending the 1st Alumni High Table.
Alumnus Mr. CHUNG Kai Yin (working at the governement) and alumna Miss CHOW Man Wai (known as Pak Lum to TSTers, working at World Vision) were invited to share their insights of "Making Meaning in Life". Following that was high tea time when alumni, teachers & F5 students got to know one another.
Mr. CHUNG Kai Yin
Miss CHOW Man Wai
Self-introduction of each alumnus
Group Photo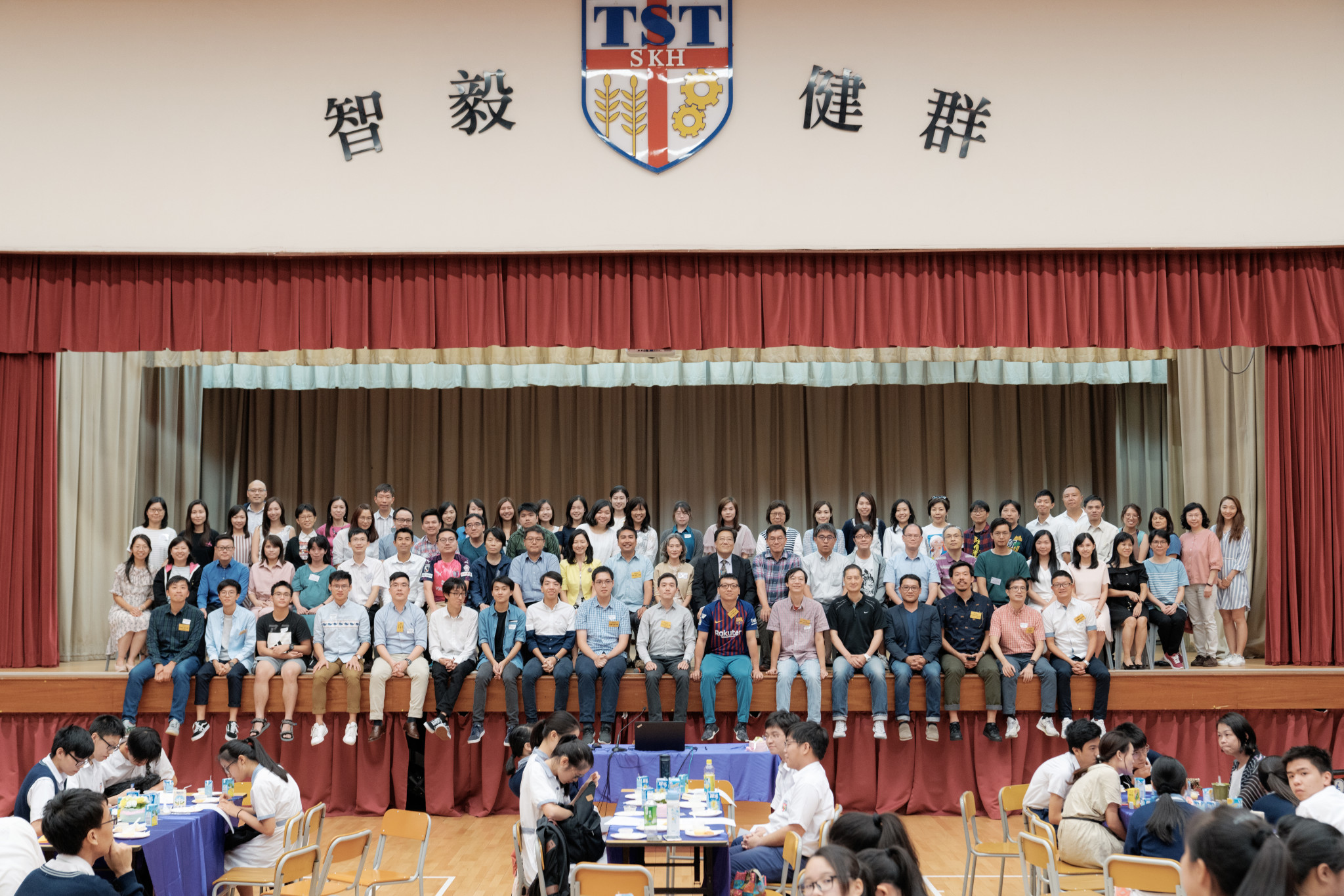 Alumni, former and current staff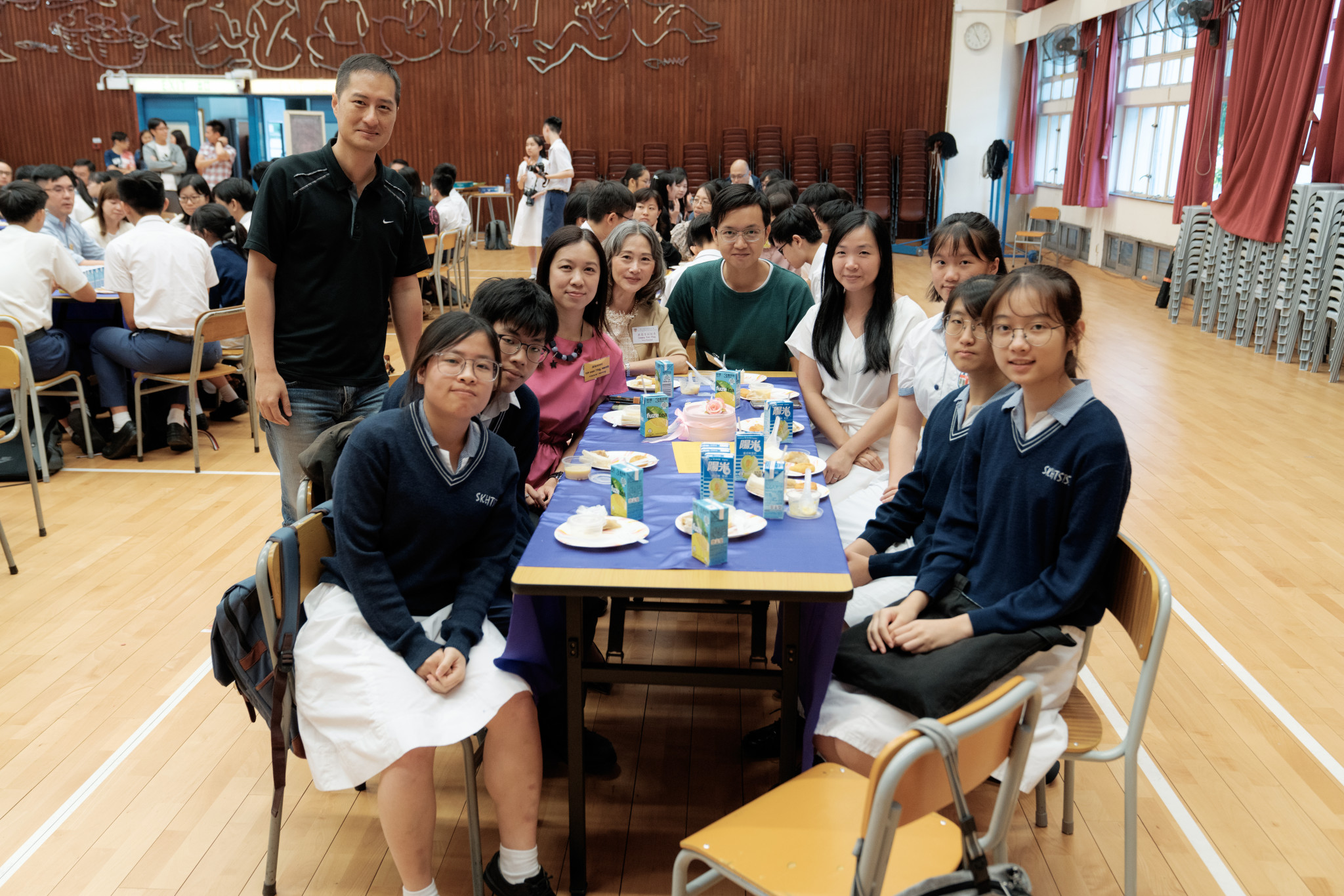 Table 01
| | |
| --- | --- |
| Alumni | Chris CHOW |
| Alumni | Yip Wan Ting Wendy |
| Teacher | Lam Kit Shan |
| Vice Principal | Tam Leung Yen Ying |
| Teacher | Wong Hing Luen |
| Student | Li Shing Chung |
| Student | LEE SHU WA |
| Student | Lo Yi |
| Student | Mugford Ka Yiu |
| Student | Tse Hiu Lam |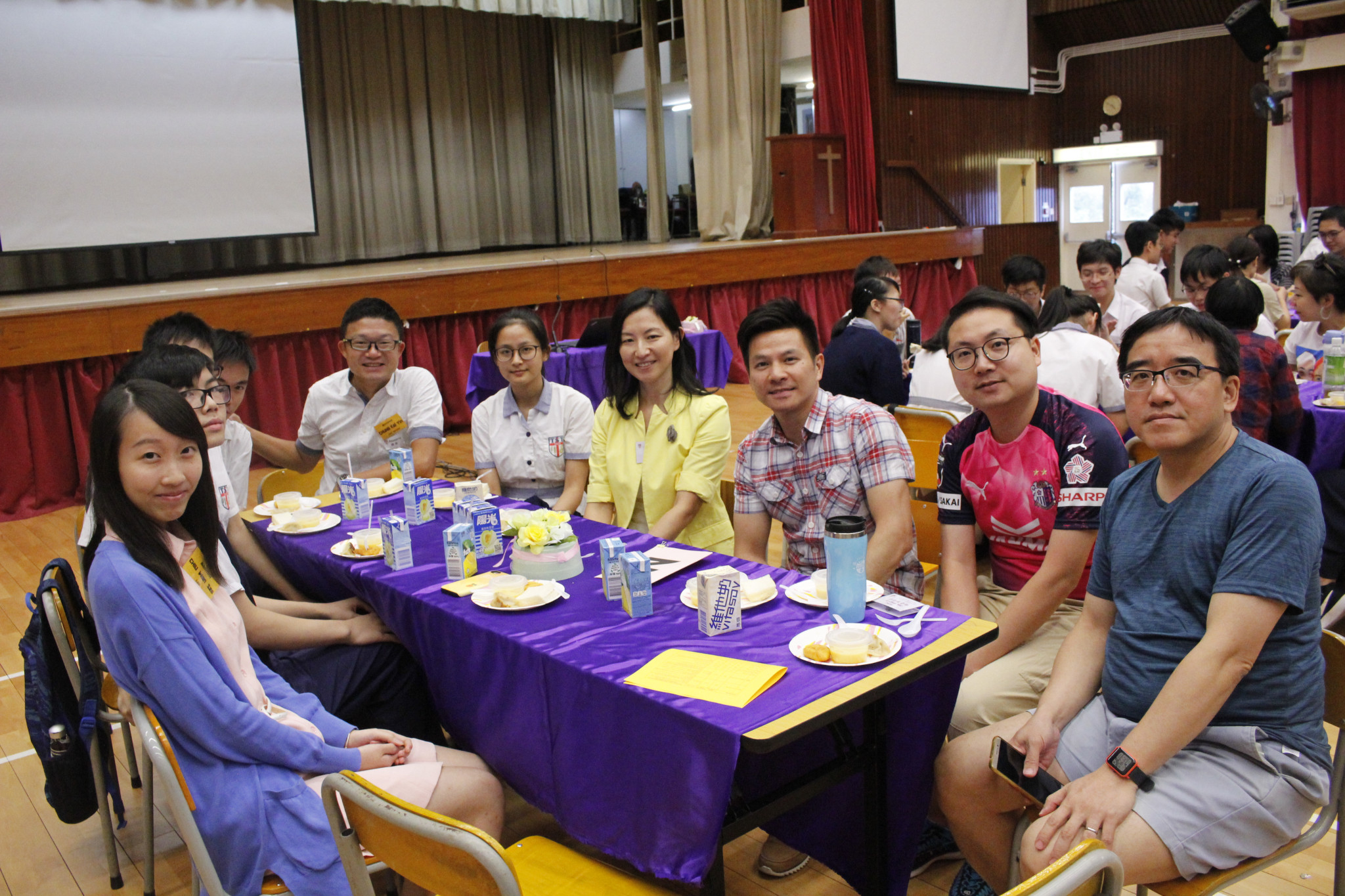 Table 02
| | |
| --- | --- |
| Alumni | CHUNG Kai Yin |
| Alumni | Ko Suk Wa |
| Alumni | Wan Sze Chiu |
| Teacher | Chan Sai Chun |
| Teacher | Lee Siu Wai |
| Teacher | Li Chun Wai |
| Teacher | Ma Wing Ki |
| Student | CHAU Chong Hei Kendrick |
| Student | Chu Yan Wai |
| Student | Chung Ngai Ming |
| Student | WONG Mei Yin |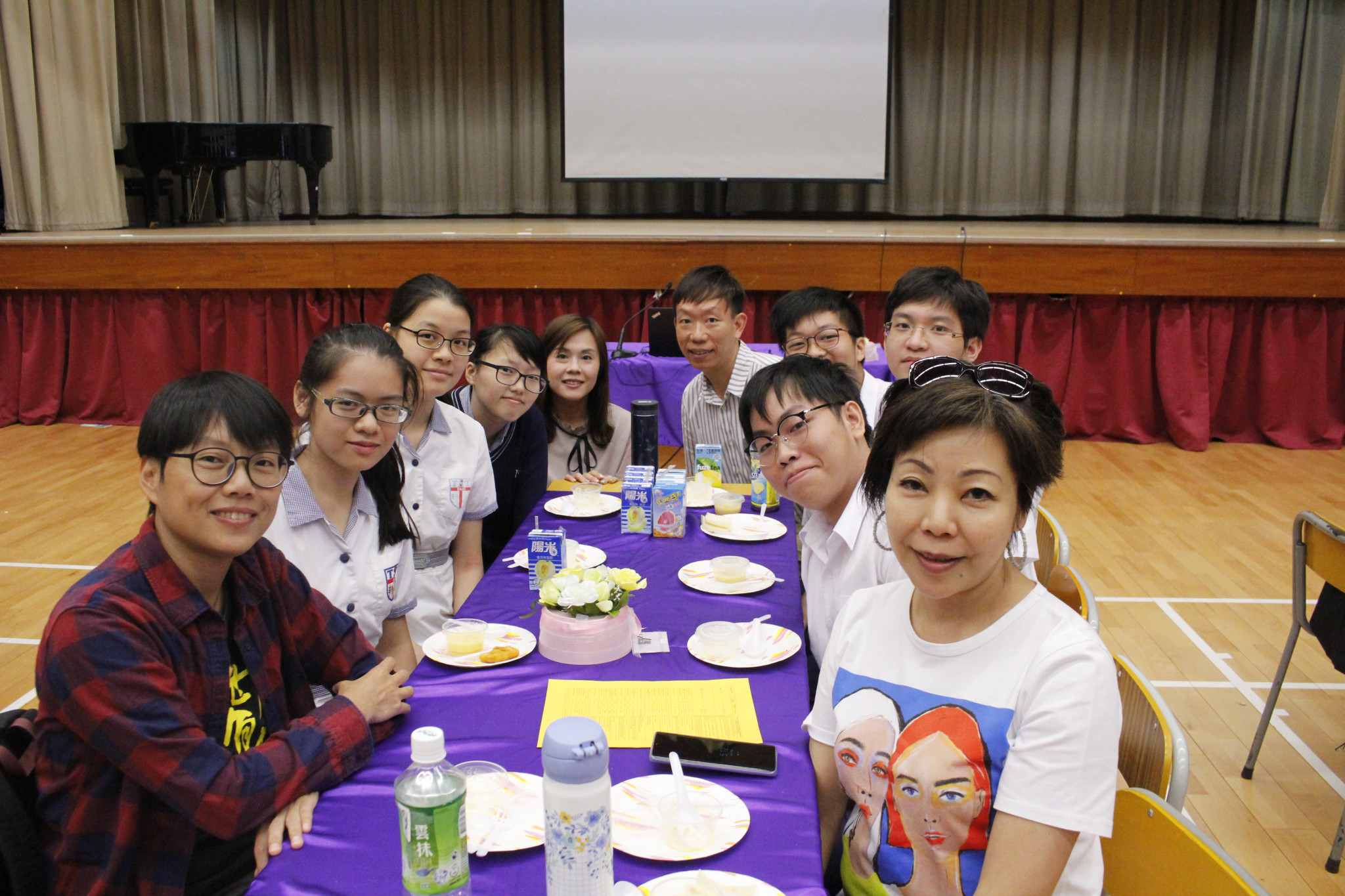 Table 03
| | |
| --- | --- |
| Alumni | CHOW Man Wai ( Pak-lum ) |
| Teacher | Lau Shuk Kuen |
| Teacher | Li Hong Ki |
| Teacher | Tse Pik Yuk |
| Teacher | Wai Hin Fung |
| Student | Fung Yin Lai |
| Student | Ha Wang Chi |
| Student | Kwok Sheung Kai |
| Student | Cheung Hiu Ching |
| Student | Cheung Hoi Ki |
| Student | Yu Hoi Ying |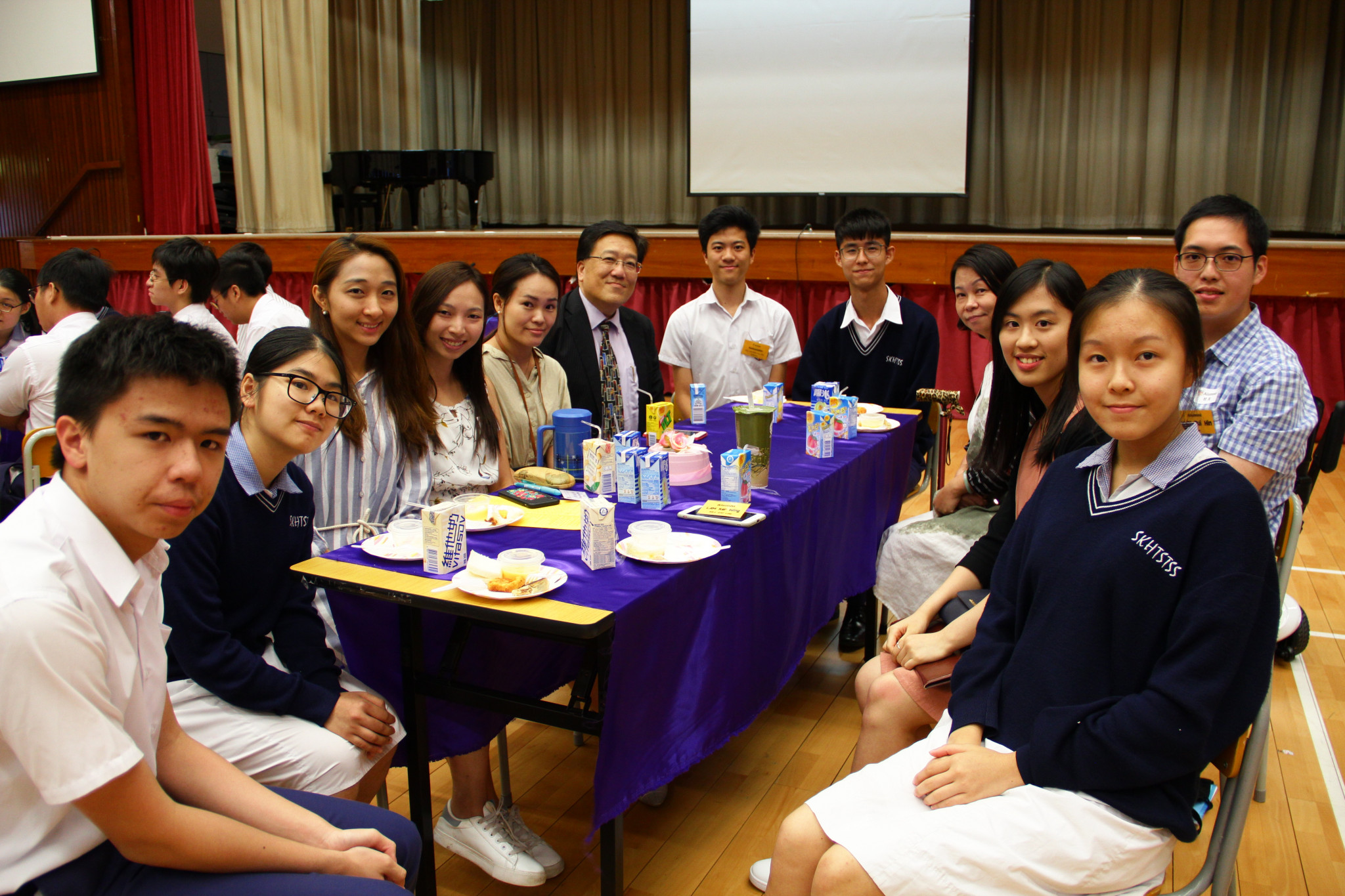 Table 04
| | |
| --- | --- |
| Principal | Wang Yu Tai, Jaxon |
| Alumni | LAM Kar Wing |
| Alumni | WAN Pui Hin |
| Teacher | Cheng Yan Yan |
| Teacher | Ng Yan Tung |
| Teacher | Wong Kam Man |
| Student | Chui Tsan Nok |
| Student | Chan Chun Hei |
| Student | Ma Cheuk Hin |
| Student | YEUNG Joy Qiu William |
| Student | TSANG Wing Yan Ivy |
| Student | Ye Pui Laam |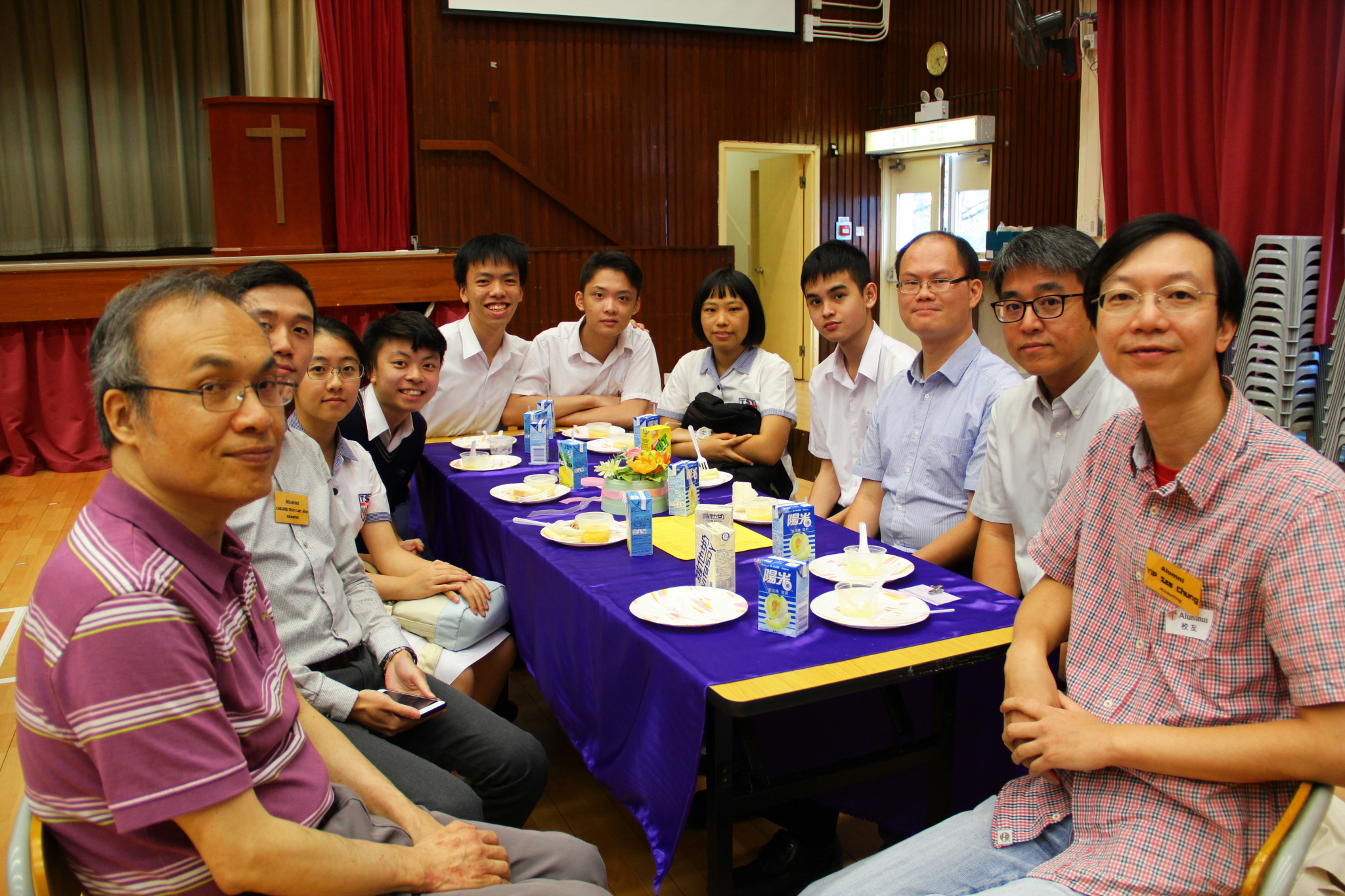 Table 05
| | |
| --- | --- |
| Alumni | CHEUNG Chun Lun Alan |
| Alumni | Yip Sze Chung |
| Teacher | Shek Ting |
| Teacher | Shum Kam Wa |
| Teacher | Tong Sai Ho |
| Student | Tsang Chak Ming |
| Student | Chang Chin Yui |
| Student | Fung Cham Chau |
| Student | LAM Kin Hei Elvis |
| Student | Leung Tze Lok Arnold |
| Student | Hau Ka Ching |
| Student | Lee Ka Yan |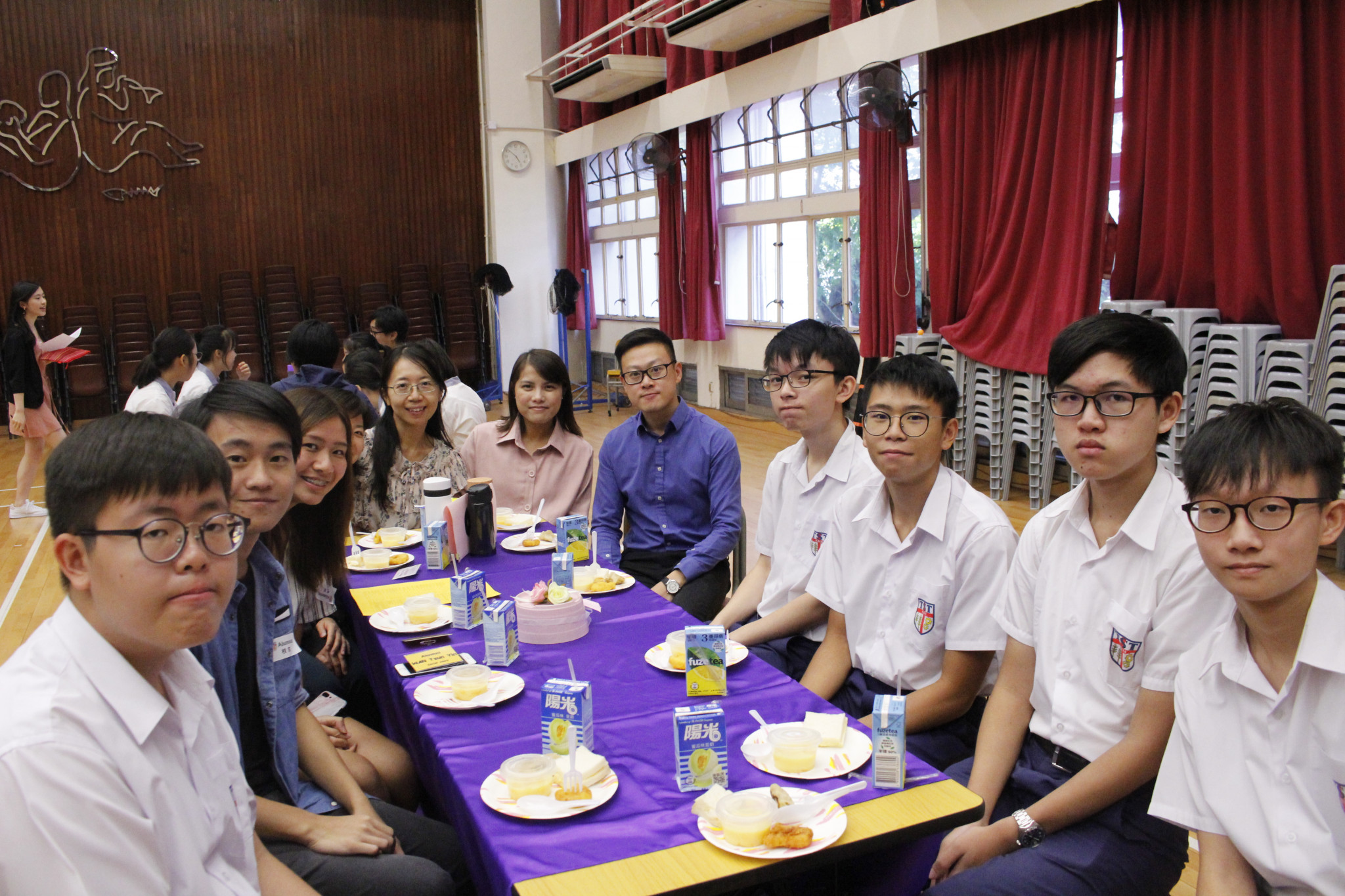 Table 06
| | |
| --- | --- |
| Alumni | WAN Tsun Yin |
| Alumni | Wan Tze Lam |
| Teacher | Chow Son I |
| Teacher | Ng Wing Yiu |
| Teacher | Sung Sze Man |
| Teacher | Wong Yuen Kwan |
| Student | Chan Kin Ho |
| Student | Chan Man Chung |
| Student | Shing Ho Hin |
| Student | Sin Tsz Yin |
| Student | Tsui Chun Yin |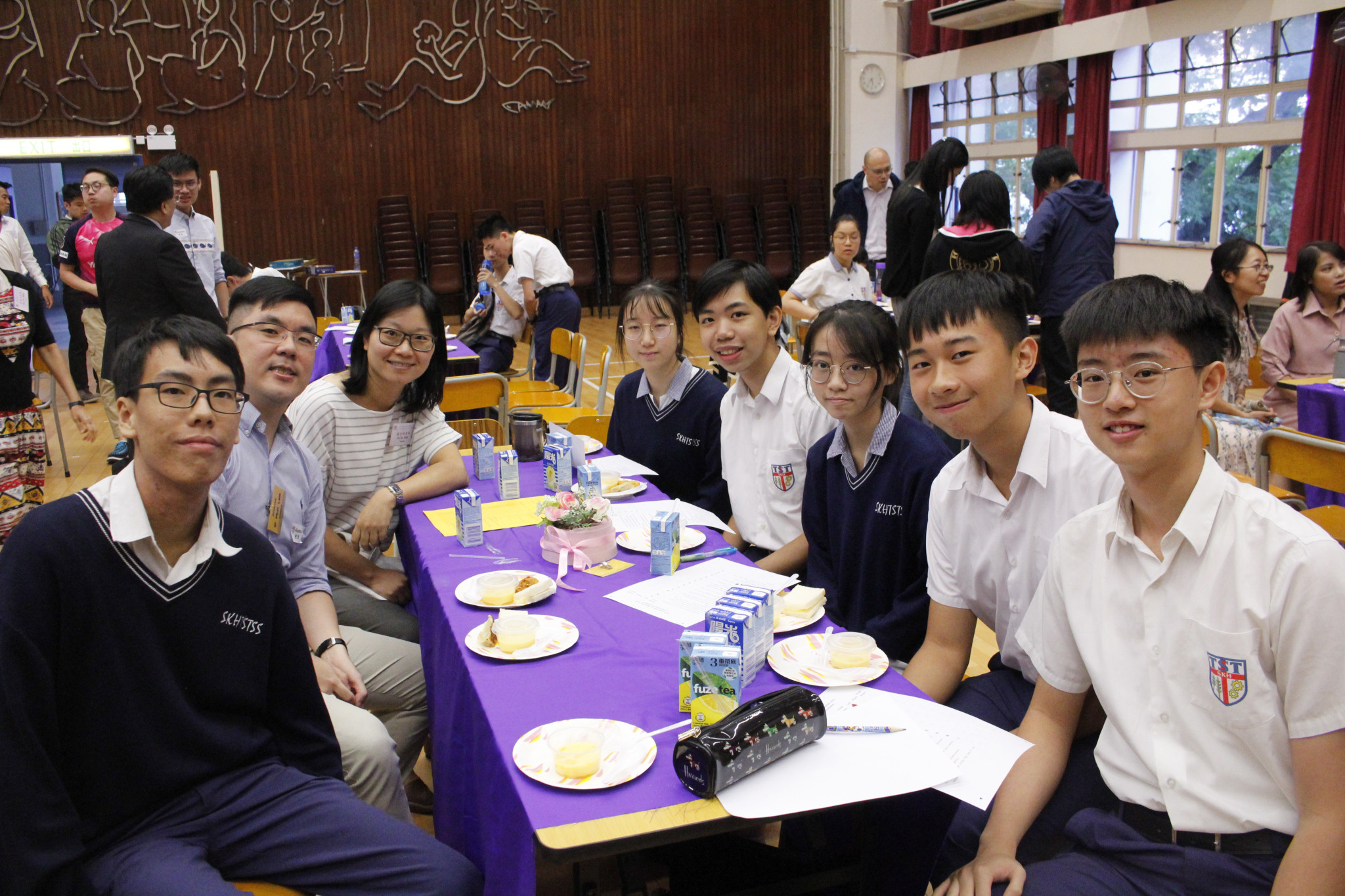 Table 07
| | |
| --- | --- |
| Alumni | IP MUN LAM |
| Alumni | Leung Sui Yee |
| Teacher | Ching Wing Sze |
| Teacher | Im Sao Kam |
| Teacher | Liu Suet Ling |
| Student | LI Wang Cheong |
| Student | Mak Siu Choi |
| Student | Chan Yuk Mei |
| Student | Charm Yi Ching |
| Student | Leung Ka Kit |
| Student | Li Ming Ip |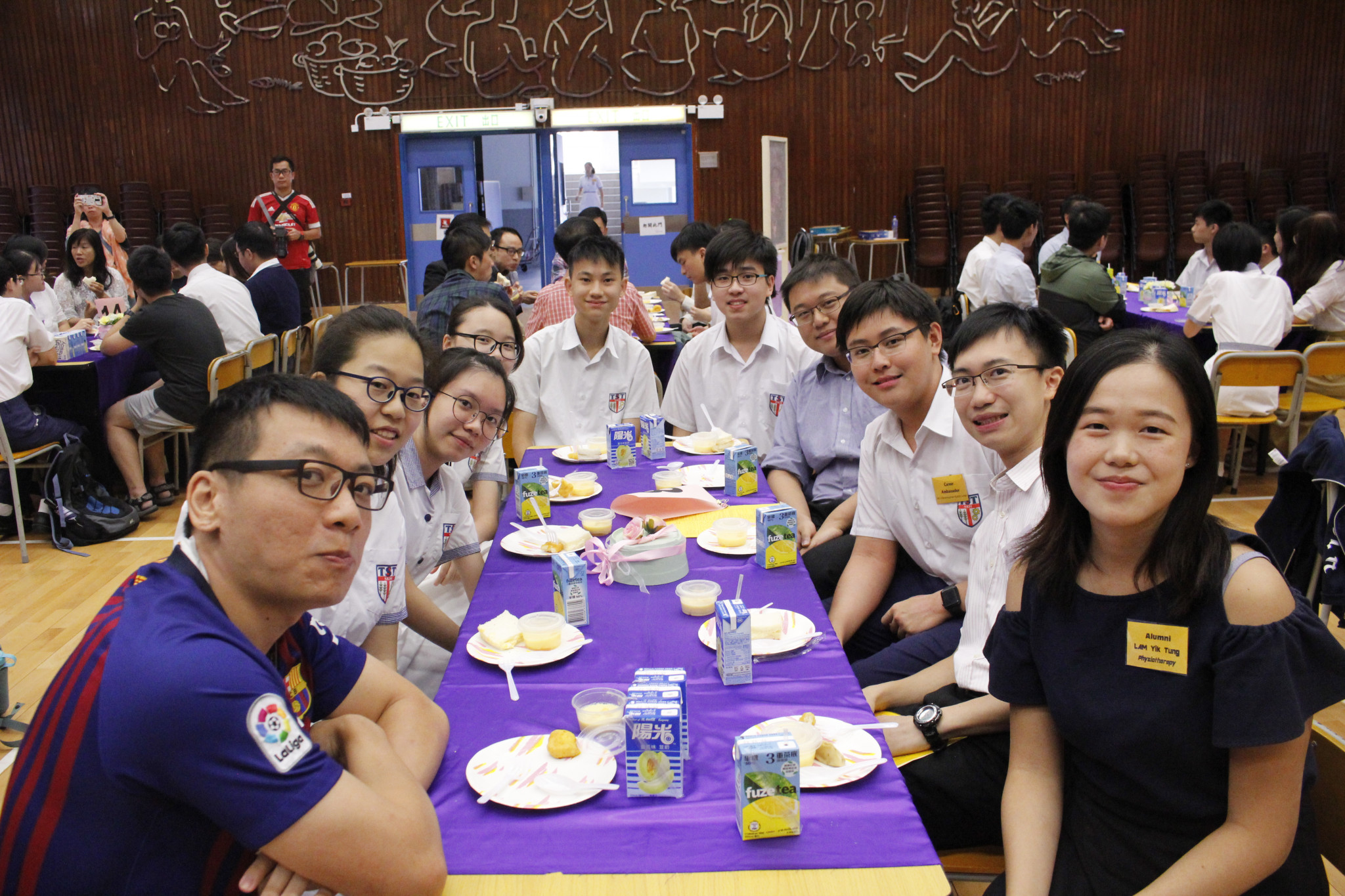 Table 08
| | |
| --- | --- |
| Alumni | LAM Yik Tung |
| Alumni | LIU Kwok Piu |
| Teacher | Ng Cheuk Yin |
| Teacher | Wong Kin Wa |
| Teacher | Wong Lik Chi |
| Student | Christopher Keith Lam |
| Student | Cheung Ka Hei |
| Student | Kong Chun Kit |
| Student | Luk Tsz Shan |
| Student | Mo Cheuk Yu Siby |
| Student | Tong Wing Tim |

Table 09
| | |
| --- | --- |
| Alumni | CHENG Long Ching Evelyn |
| Alumni | Ng Hok Yu |
| Teacher | Chan Wing Man |
| Teacher | Ng Kwok Wai |
| Teacher | Tsoi Ka Yan |
| Student | Hui Yuk Ning |
| Student | Lai Hiu Laam Lancy |
| Student | Lo Yan Yi |
| Student | CHUNG Sin Ying |
| Student | Law Yan Hei Beatrice |
| Student | Man Tsz Kiu Anna |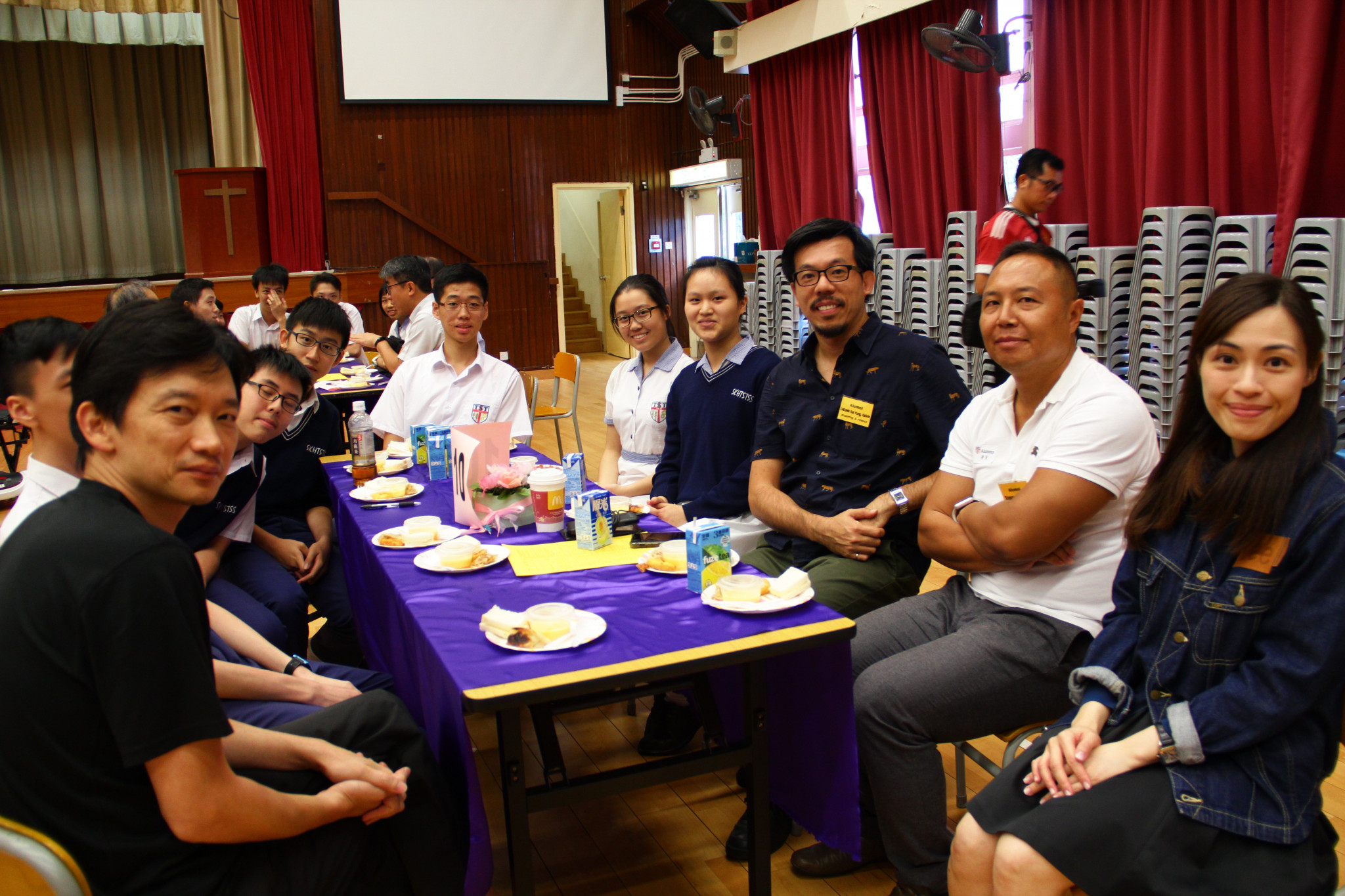 Table 10
| | |
| --- | --- |
| Alumni | CHEUNG Kai Fung (Kelvin) |
| Alumni | Curtis Mak |
| Alumni | Spencer Lam |
| Teacher | Fan Ho Yan |
| Teacher | Wan Chun Kong |
| Student | LO Yin Wang |
| Student | MA Ho Sum |
| Student | Mak Chun Kit |
| Student | Mak Ho Hin |
| Student | Chau Tsz Ki |
| Student | Lai Hoi Ching |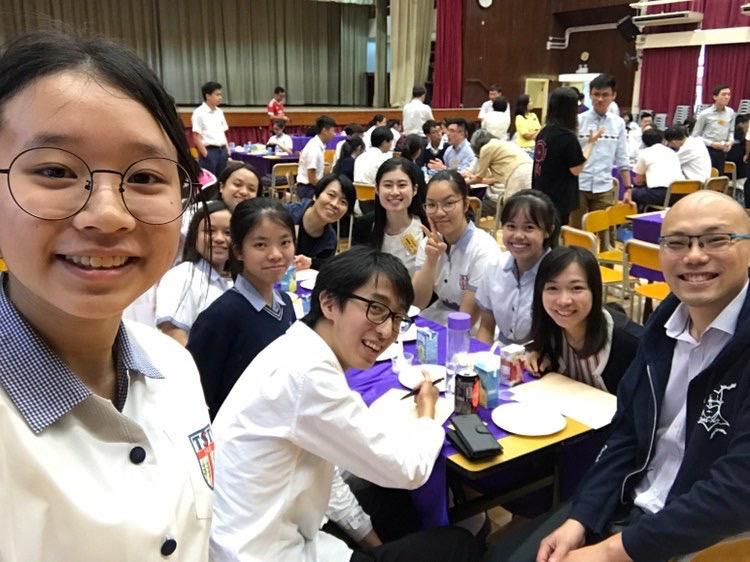 Table 11
| | |
| --- | --- |
| Alumni | Wong Ka Chun |
| Alumni | WONG Ka Ki |
| Teacher | Kwong Ka Yan |
| Teacher | Lau Wai Fung |
| Teacher | Ma King Man |
| Teacher | Wong Ming Kit |
| Student | She Ha Long |
| Student | She Tung Ching |
| Student | Shum Wan Ki Joelle |
| Student | Tsang Tung Yan |
| Student | LAM Yik Ching |
| Student | Li Hoi Ching |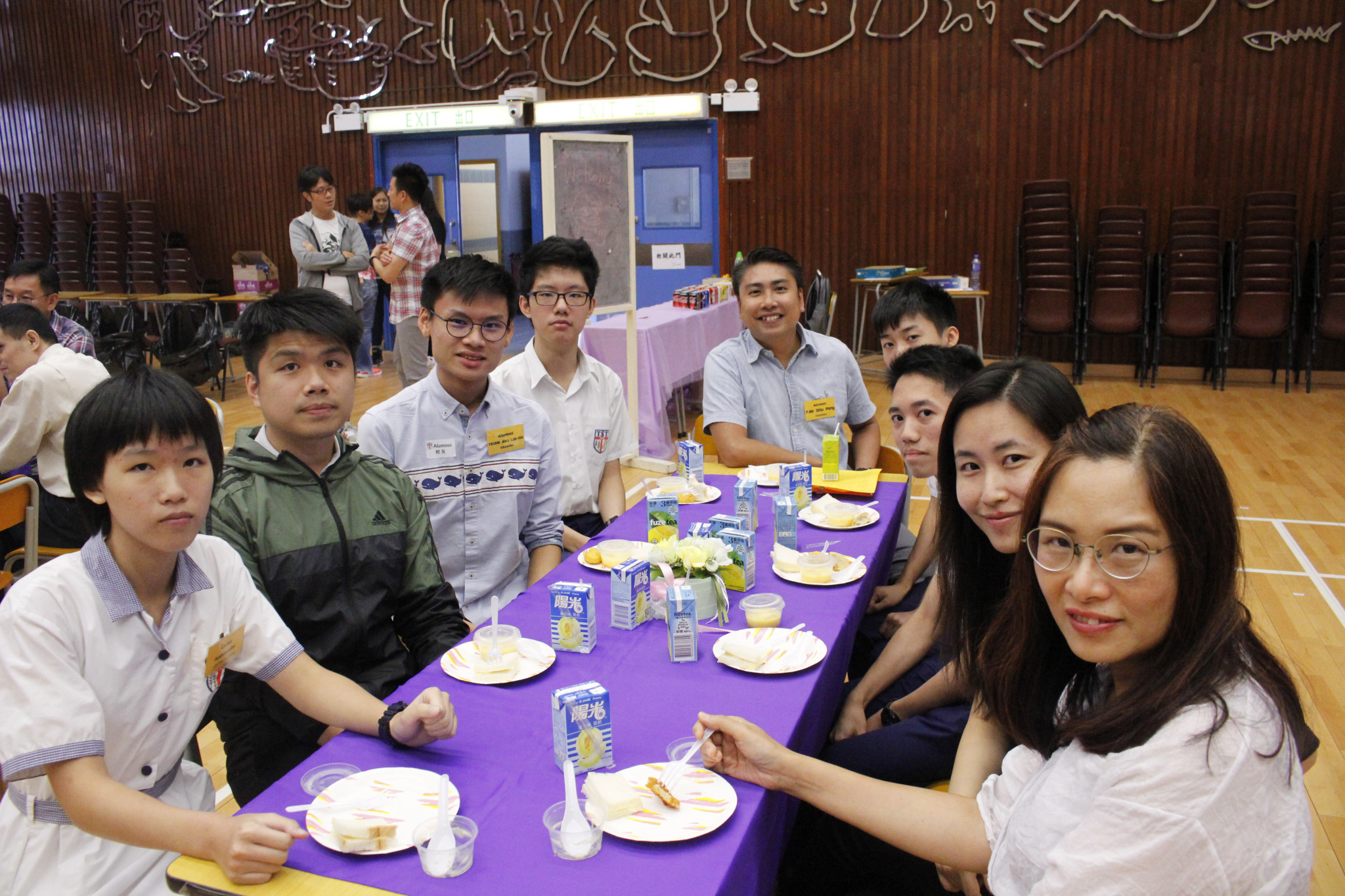 Table 12
| | |
| --- | --- |
| Alumni | Fan Shiu Pong |
| Alumni | YEUNG Alex Lok-hin |
| Teacher | Cheng Yuen Ying |
| Teacher | Ho Wai Yin |
| Teacher | Li Wai Tung |
| Student | Wong Tsun Kwong |
| Student | Yiu Ka Wing |
| Student | Yum Yiu Chung |
| Student | Chan Ho |
| Student | Chan Pak Hei |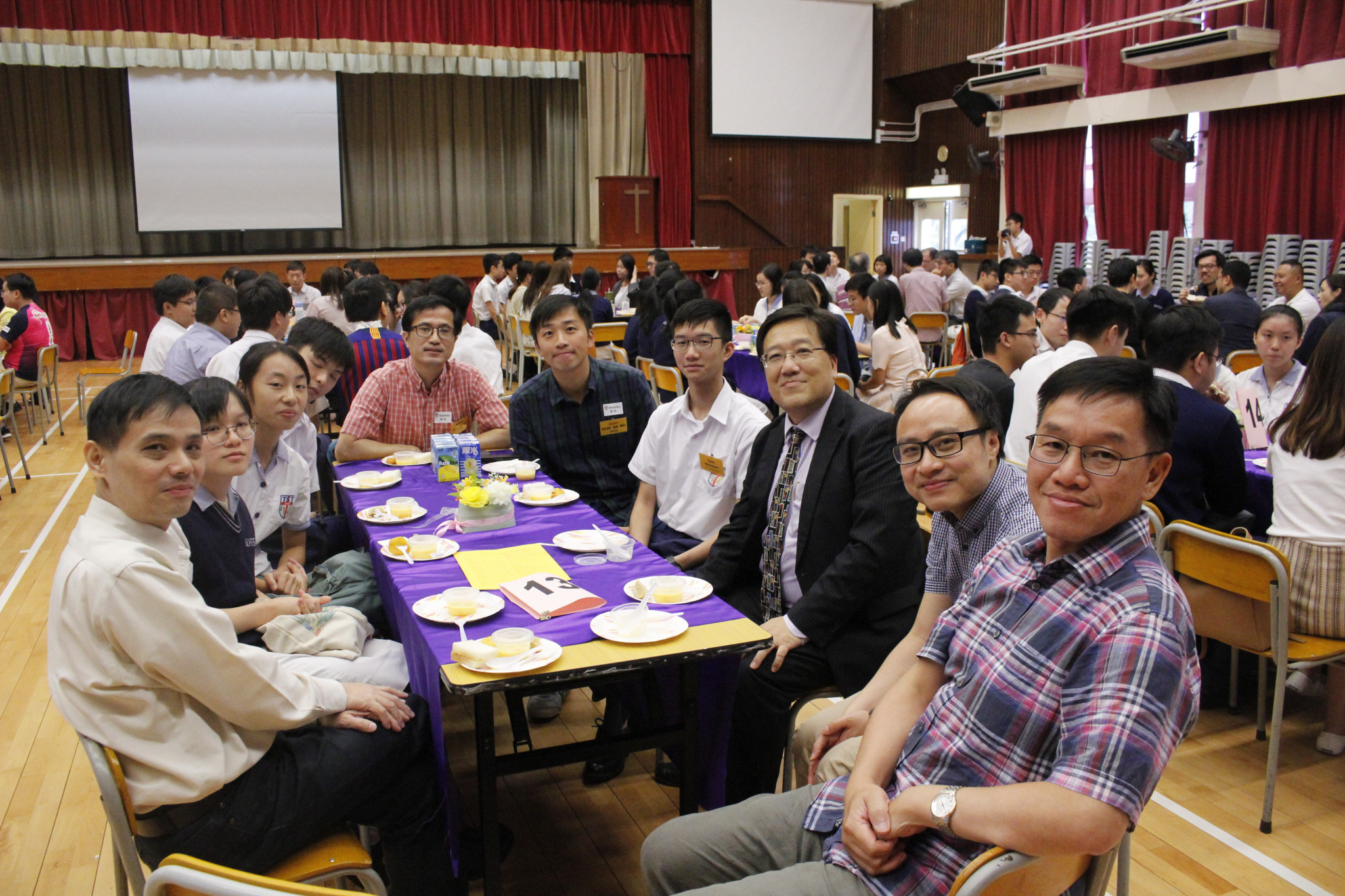 Table 13
| | |
| --- | --- |
| Alumni | Chow Shui Nin |
| Alumni | LEUNG Wing Kin Lawrence |
| Vice Principal | Lam Chi Keung |
| Teacher | Lau Kwan Shu |
| Teacher | Yiu Kwok Wai |
| Student | Hor Yuk Hei |
| Student | CHOI Hei Ming |
| Student | Fung Sze Wan |
| Student | Tse Ho Kai |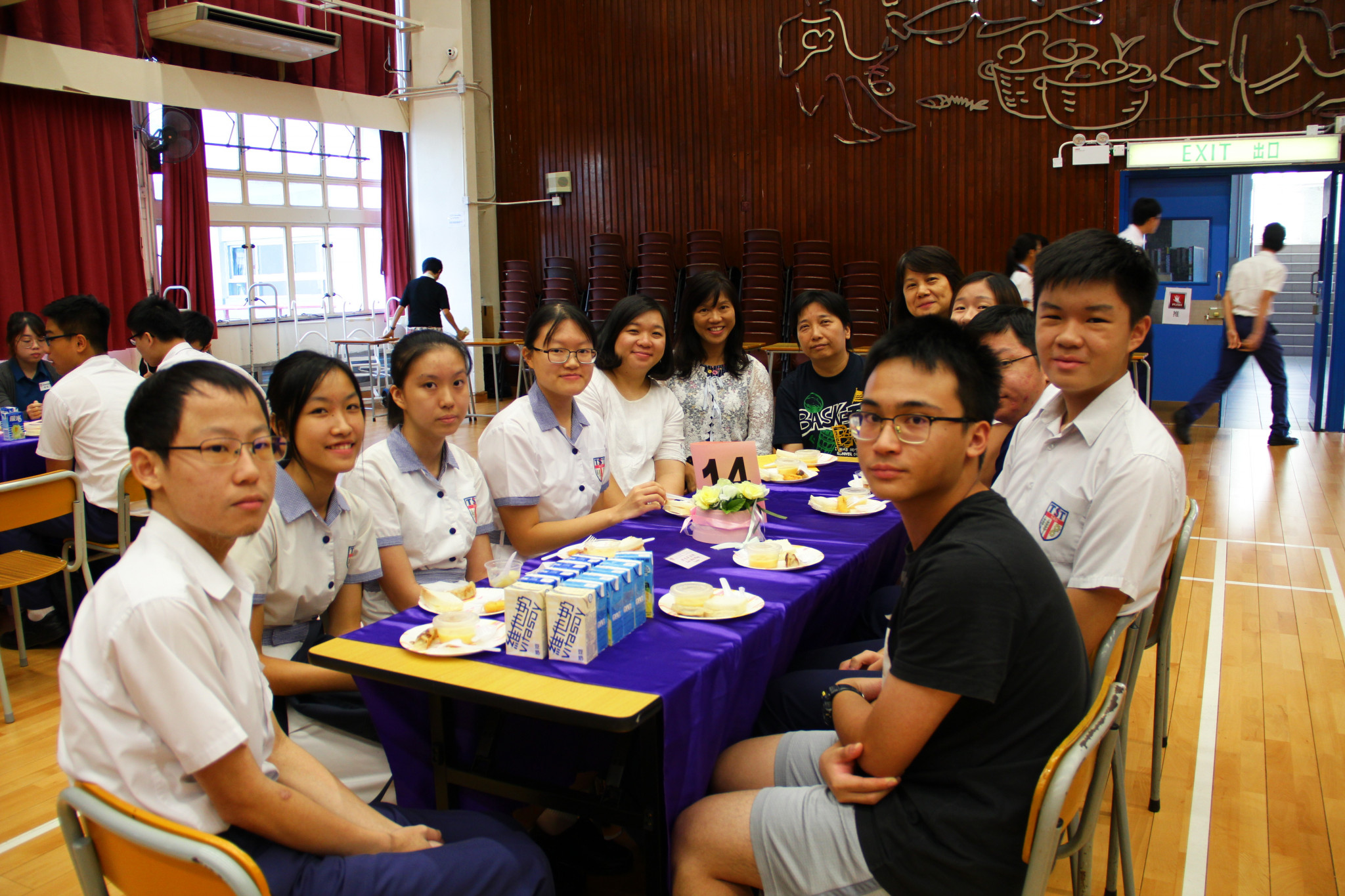 Table 14
| | |
| --- | --- |
| Alumni | Chan Lok Yee Venus |
| Teacher | Lau Wai Ping |
| Teacher | Seto Sui Chun |
| Teacher | Wong Wai Shan |
| Student | Chan Hing Ming |
| Student | Chiu Hoi Tung,Fiona |
| Student | Fu Wing Hei |
| Student | Yau Chun Yeung |
| Student | Chan Tsz Hei |
| Student | Li Ming Chun |
| Student | Mak Tin Ngo Oscar |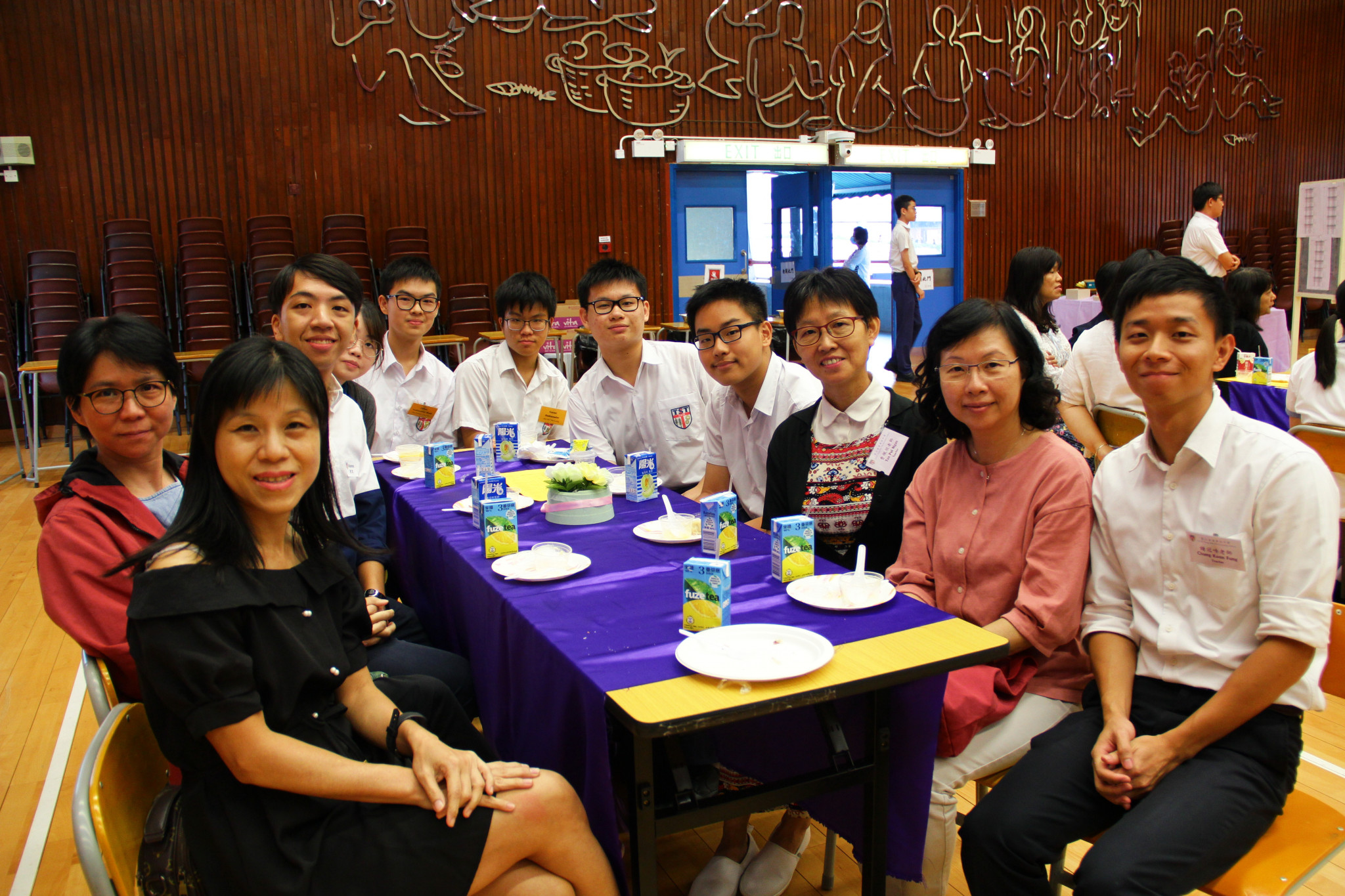 Table 15
| | |
| --- | --- |
| Alumni | CHAN Ka Sin Steffany |
| Alumni | LO Chak Chiu |
| Teacher | Chung Koon Fung |
| Teacher | Ho Yuet Han |
| Teacher | Lam So Mui |
| Teacher | Tso Pui Ngan |
| Teacher | Yeung Yin Fun |
| Student | So Wai Chun |
| Student | WONG Zi Hin |
| Student | Fung Tsz Hin |
| Student | HO Tsz Long |
For more photos, please visit:
https://drive.google.com/drive/folders/1PIrAYc2NZmbaKQwsj_6FgExC9E-y1tu8?usp=sharing
1st Alumni High Table on September 21, 2019