"Strokes of Genius: Beyond Artistry" Chinese and Western Calligraphy & Painting Exhibition co-organised by the Chinese Calligraphy & Painting Society, the Art Club, the Chinese Society, the English Society and the Alumni Association Limited (AA Ltd) has been successfully held. The exhibition features calligraphy works submitted by our students and alumni, exhibiting a wide variety in content and style. Ten students were awarded book vouchers and certificates for their outstanding works in the prize presentation held on 17 May 2022.
Special thanks to the alumni for contributing their art pieces and the AA Ltd for donating the book coupons. Congratulations to the awardees!
The works are on exhibit at the covered playground until 31 May 2022.
Awardees:
Western Calligraphy: 4B CHEN Wing Sze, 4B LI Yan To, 4C LEE Hoi Ching, 4D CHAN Kam Chun Marco, 4C CHAN Egbert Hok Yin
Chinese Calligraphy: 2B LAM Ki Nga, 2D GU Qiyuan, 4C CHEN Ho Yan, 4C LUO Sui Yan, 5B HE Hiu Ching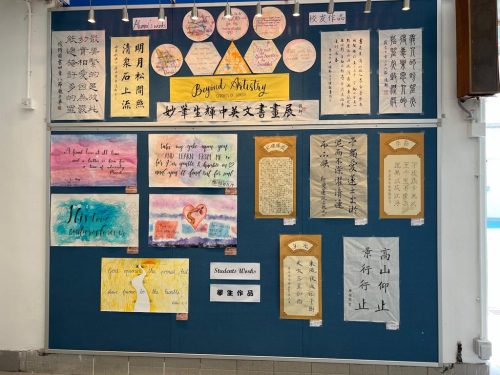 The artworks are exhibited at the Exhibition Corner in the school's covered playground.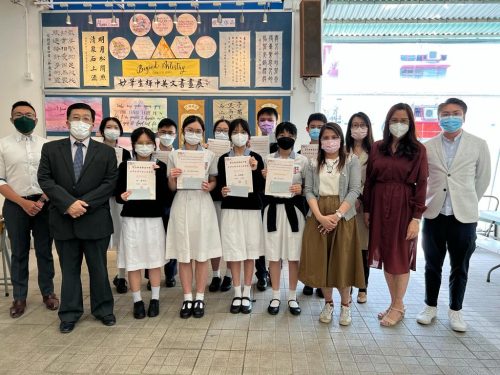 Teacher advisor of the English Society Mr LAM Ka Chun (first left), Principal Mr WANG, Vice-chairman of Alumni Association Mr FAN Siu Pong (first right), teacher advisor of the Chinese Calligraphy & Painting Society Ms HO Wai Yin (second right), teacher advisor of the Art Club Ms CHAN Yin Sharon (third right), teacher advisor of the Chinese Society Ms NG Wing Yiu (fourth right) and the awardees.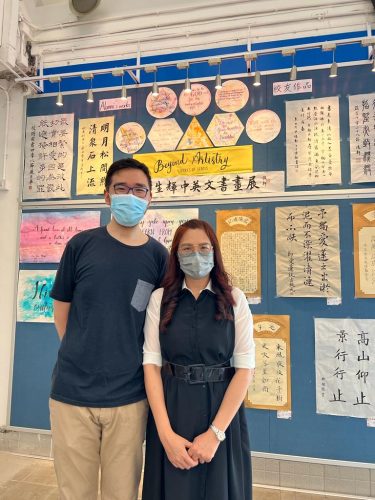 Alumnus Mr PONG Cheuk Wah donated his work (upper left corner).
Strokes of Genius: Beyond Artistry" Chinese and Western Calligraphy & Painting Exhibition