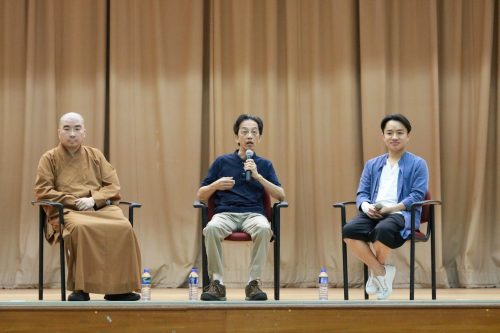 Two alumni held a forum on "Happiness and blessedness" ( 論快樂與幸福 ) in Day 1 Assembly for F4 and F5 students.
Within 45 minutes, Sik Guo Ngai (釋果毅法師) whose name was (楊毅彬) graduating in 2000 F7 and his peer Wong Cho Lam (王祖藍) discussed the topic hosted by our school chaplain Mr. Woo Wai Ki.
The discussion was greeted with enthusiasm from both teachers and students especially when the concepts "Happiness and blessedness" were discussed with fond reminiscences of the past happy days when they were studying in our school.
They both agreed to mark the date of our 40th Anniversary Carnival and Alumni Association Ltd Anniversary Dinner on Apr 14, 2018. More details about the Carnival and the Dinner will be posted on the Alumni website in the coming months. Stay tuned.
Alumni Sharing at Day 1 Assembly