In its fourth year of implementation, the F4 IA-Career VISTA Video Mentorship bonded all F4 students with 98 alumni and 37 former and current staff members. Students in groups of five produced a video clip on an issue in a documentary or a drama.
Deepest thanks to the mentors (alumni and staff lists) of all 35 groups as they had done an excellent job in helping students to explore the issues of their own choice.
Student winners were given book coupons by the Career and Life Planning Team.
| | |
| --- | --- |
| Best Film: | 4E Group 6   「追逐音樂夢」 |
| Teacher: | Ms. LAM Wai Kuen |
| Alumni Mentor: | MAK Chung Hong, Curtis |
| Group Members: | CHEUNG Kin Yi, LAI Wing Yee, MAK Yi Lam & WONG Annabelle |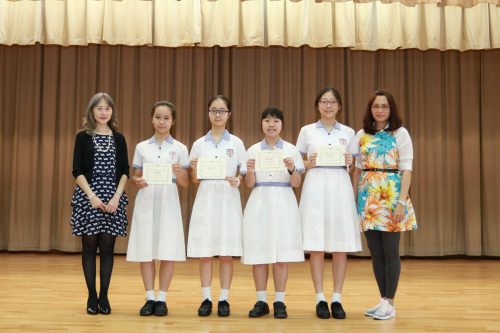 | | |
| --- | --- |
| Best Writing & Adaptation: | 4A Group 6   「機會」 |
| Teachers: | Mr. Yue Chi Fai |
| Alumni Mentors: | POON Yuk Yee, TANG Sau Fun & WAN Po Ling |
| Group Members: | CHAN Yu Hin, TANG Tsz Yu, TANG Hoi Tung, WONG Sze Hang Joyce & WONG Wan Yin |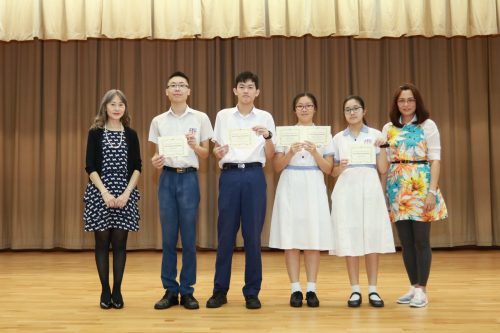 | | |
| --- | --- |
| Best Film Editing: | 4A Group 7   「一天」 |
| Teachers: | Miss CHENG Yuen Ying & Miss MA Wai Ling |
| Alumni Mentors: | NG Chou-keen, LAU Nga Ki, TSUI Kam Chi, KENT Chung Ming & SHUM Long Kwan |
| Group Members: | CHAN Ho Hin, KWAN Wing Sze, TSOI Hiu Man & WONG Sau Kuen |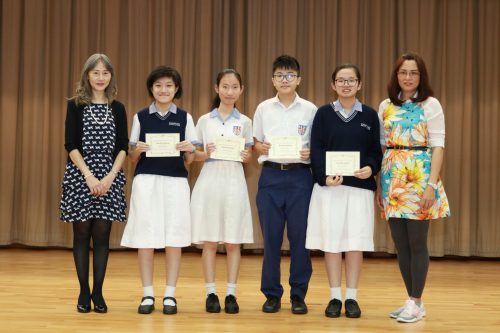 | | |
| --- | --- |
| Best Screenplay: | 4B Group 5   「圓憾‧夢醒之後」 |
| Teacher: | Mr. Wai Hin Fung |
| Alumni Mentors: | AU Ka Yu, LAW Yan Yi & Arthur TANG |
| Group Members: | HO Wing Yu, LAW Sik Wing, LIU Sum Yin, WONG Sum Yee & YU Hoi Lam |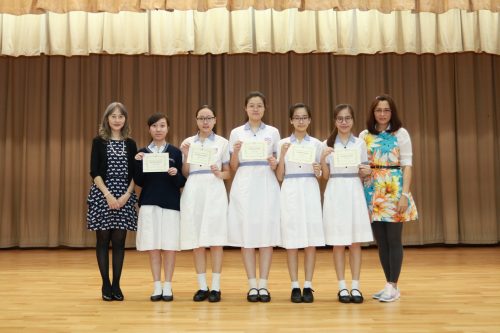 | | |
| --- | --- |
| Best Mockumentary: | 4E Group 4   「難忘學生會」 |
| Teacher: | Mrs. TAM LEUNG Yen Ying |
| Alumni Mentors: | WAN Pui Hin Herman, TSANG Shek Long Sunny & YEUNG Lok Hin Alex |
| Group Members: | LAW Cheuk Him, LIU Cheuk Him, SZE Kin Fung & YAU Hei Yin |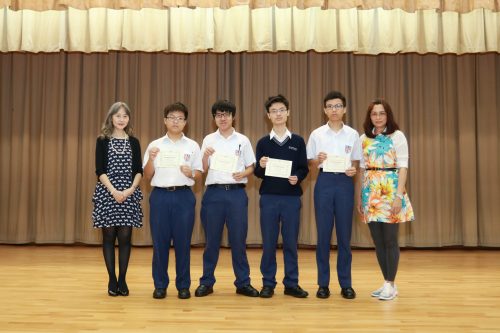 | | |
| --- | --- |
| Best Cinematography: | 4C Group 1   「啟航」 |
| Teachers: | Miss MA Wai Ling & Miss TSE Pik Yuk |
| Alumni Mentor: | Victor SUN |
| Group Members: | CHENG Tsz Hin, CHONG Ki Chak, LEUNG Ming Yiu & TIN Ka Po |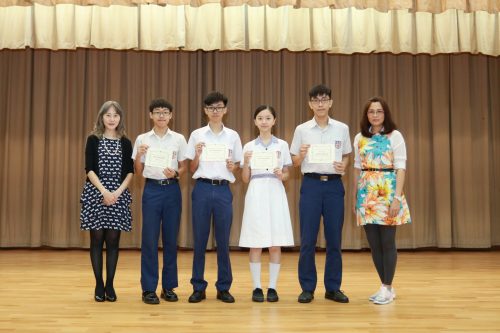 | | |
| --- | --- |
| Merit: | 4B Group 3   「The show must go on …」 |
| Teachers: | Former Principal Mr. TONG Kai Hong, Ms. LEUNG Mi Ling, Miss TSE Pik Yuk & Miss CHENG Yuen Ying |
| Alumni Mentors: | LEUNG Ming Lun, YUEN Yee Tak, WONG Sze Ki, NG Yuen Yung, TSANG So Ting, HO Ka Yi, CHAN Wai Ling, CHAN Wai Tak, WONG Sze Wai & LAW Yin Che |
| Group Members: | CHAU Kei Yin, CHEUNG Ka Pak, CHOW Hiu Yan, OR Wing Sum & WONG Yee Ching |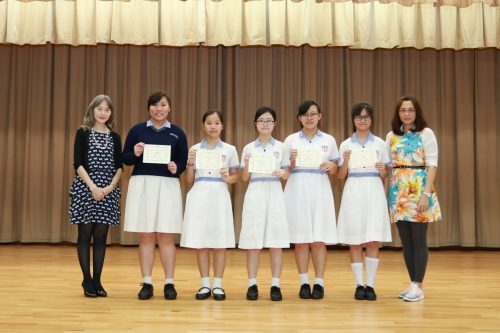 | | |
| --- | --- |
| Merit: | 4C Group 3   「創作故事」 |
| Teacher: | Mr. WAI Cho Kwong |
| Alumni Mentors: | LAM Hiu Ching & CHAN Chun Kin |
| Group Members: | KAN Ho Long, NG Tsz Kit, WONG Ching Pok & YU Kam Hei |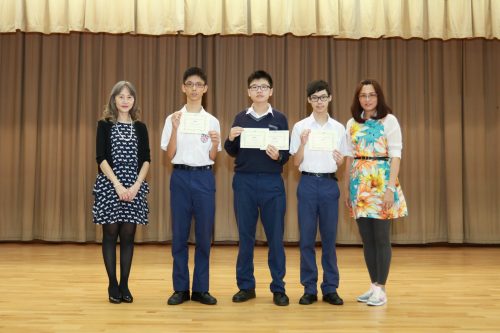 | | |
| --- | --- |
| Merit: | 4C Group 6   「昔日情」 |
| Teacher: | Miss LEUNG Yee Wai |
| Alumni Mentor: | CHONG Tsz Kiu |
| Group Members: | AU Heung Tung, CHEUNG Ting Yuk, LAM Yin Yin & LAM Ying Wai |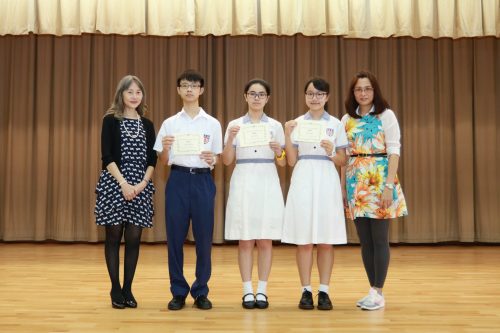 17-18 F4 IA-Career VISTA Video-Mentorship Project "Back to future 昔日情"